HOME | WHAT WE DO | HOW TO ORDER | CONTAINER SIZES | AREAS SERVICED | RESIDENTIAL SERVICE | FAQ
About Our Residential Service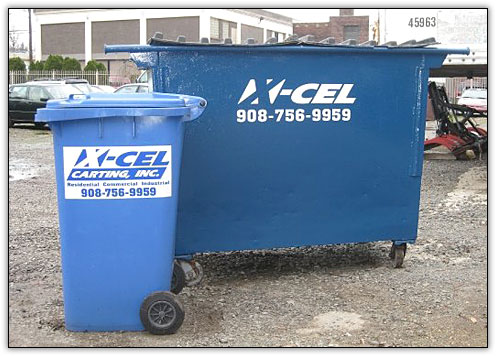 Our residential service is second to none. The service that our employees provide is unparalleled. From our helpful girls in the office to the men who drive and pickup your trash, X-Cel Carting employees take pride in what they do.
Whether one chooses our convenient driveway service or is one of our very many curbside pickups, each and every X-Cel Carting customer can rest assured that garbage is our very first priority. One should not have to worry about their disposal company missing pickups or articles of trash. Have an extra bag? No problem, X-Cel Carting will take it at NO extra charge. We do not nickel and dime our customers. We are very proud of the reputation that we have established and strive to continue that each and every day.
Areas Serviced:
Somerset County:
Watchung
Call for Bridgewater service area. (certain parts of town are serviced)
Days Serviced: Monday and Thursday
Hunterdon County:
Lebanon, Tewksbury (all sections), Califon, High Bridge
Days Serviced: Tuesday and Friday
To inquire about residential weekly pickup at your home or business, please call 908-756-9959
Bulk pick ups are available, please call for pricing on specific items.
---
To Our Current Customers:

Beginning in November of 2011, we will be adjusting our recycling days from every Tuesday to every other Wednesday. Your pickup day for your garbage has NOT been changed so please keep your regularly scheduled days. This is to more efficiently serve you.

If you have any questions about our new recycling schedule, please feel free to call us: (908) 756-9959
2014 Recycling Schedule
January 8, 2014
January 22, 2014
February 5, 2014
February 19, 2014
March 5, 2014
March 19, 2014
April 2, 2014
April 16, 2014
April 30, 2014
May 14, 2014
May 28, 2014
June 11, 2014
June 25, 2014
July 9, 2014
July 23, 2014
August 6, 2014
August 20, 2014
September 3, 2014
September 17, 2014
October 1, 2014
October 15, 2014
October 29, 2014
November 12, 2014
November 26, 2014
December 10, 2014
December 24, 2014
---
Holiday Schedule
These are the holidays we observe:
New Years Day, Memorial Day/Monday, Fourth of July, Labor Day/Monday, Thanksgiving and Christmas Day
There will be no pickup on any of these days. If your pickup day falls on one of our scheduled holidays, your service will resume on your next scheduled pickup day.
---
Call Now! 908-756-9959
• Phone Quotes Gladly Given • Same Day Dumpster Service •
• Senior Discounts • Multi-Container Discounts •
• Weekly Residential Pickups • Curbside and Driveway Service Available •

Office Hours: Monday - Friday, 8:00 am - 5:00 pm

X-CEL Carting, Inc. • 767 North Avenue • Plainfield, NJ 07062
Phone: (908) 756-9959 • Fax: (908) 756-9979
---
XCEL CARTING, Inc. | NJ Roll-Off Container Service | Dumpster Service
Copyright © 1999-2014 X-CEL Carting, Inc. All rights reserved.